Step 1
Reward: 3,500 coins
Step 2
Chop 25 trees

Upgrade your Blacksmith to tier 5

Do 3 mermaid searches
Reward: 5,000 coins
Step 3
Test out Beths Cruiser speed on a short voyage

Own 3 ships to test which is the fastest

Defeat 3 pirates to show them who's boss
Reward: 6,000 coins
Step 4
Chop down 30 trees to get the best wood

Upgrade to a Tier 6

Boat Merchant 

for the best hull

Purchase an Iron Mine for the strongest metal (Iron mine is not a limited time merchant)
Reward: 8,000 coins
Step 5
Reward:

10,000 Coins
Step 6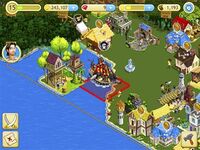 Upgrade to a Tier 3 Iron Mine for weights to get strong

(2100 pearls needed)

Complete a short voyage with the Speedster to warm up!

Challenge Speedy Sal! Defeat him in battle!
Reward: 12,000 coins
Step 7
Build Pirate's Inn, to distract his fans and slow him down! (163,488 coins, 17 hours)

Upgrade your Pirates Inn to Tier 3 for more drinks! (2150 pearls needed)

REMATCH: Speedy Sal will be back in two. Hours. defeat him!
Reward: 14,000 coins
Step 8
Upgrade your Speedster to Tier 3 for top speeds (1365 pearls needed)

Recruit mermaids to cheer you on: complete 3 searches

Take the win with a Medium Speedster Voyage
Reward: Marble Carver