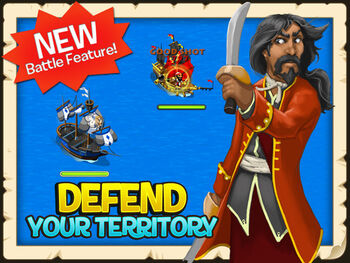 Contents
Information
Pirates start to appear after you reach Level 5 and complete the Pirates! quest that appears in your quest log.
Be warned that when you attack and do not win on the first shot, you will be charged for the repair fee for your ship, irrespective of how much damage is sustained.
If you lose the battle, you DO NOT lose your ship - it merely requires repair! And your ship will not be available to battle, get upgraded or go voyaging until it is repaired. Also, the Pirate will not repair which allows you to re-attack with another ship to take advantage of the previous hits.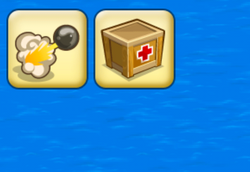 Using the buttons shown here, you can heal your
ship
during battle (right button) for a fee of 5
rubies
 or power up your Cannons (left button) to 150% for three shots to help defeat tougher Pirates, also at a cost of 5
rubies
.
Note that the power up shots will not be transferred to your next ship if you are defeated within the three shots - nor to the next battle with your ship if you win. Also note that these power-ups are not available until you reach Level 12.
Island Pirates
Island Pirates are so called as they are fixed to points of the map adjacent to the islands. They will not appear until after you have explored the relevant section of the land and will stop appearing once you progress beyond a certain point. This point differs for every pirate.
Island Pirates reduce the payout of anything within an affected area (shown by a red outline in game). Defeat the pirate to maximize your income - or simply do not build anything with a high income within the red zones.
If you choose to bribe a Pirate, he will take your coins and leave for the respawn period.
Name
Attack /
Defence
Average Payout
Respawn Time
Location/Picture

Barnacled Betty

1 / 1
4-12 Pearls

Pillaging Paul

3 / 2
4-18 Pearls
0-1 Sapphires

Terrible Thomas

8 / 7

The Gorgon

13 / 15
16-35 Pearls

Black John

39 / 41
76-109 Pearls

The Diabolus Pirate

?
?

The Serpent

45 / 38
122-126 Pearls
28 Hours

Sly Sam

38 / 45
~128 Pearls

The Silver Shark

45 / 40 
252-275 Pearls
0-1 Sapphires

The Silent Scourge

100 / 82
496-524 Pearls
0-3 Sapphires
39 Hours

Illustrious Ilian

145 / 150
0-4 Sapphires
0-1 Black Pearls
36 Hours

The Red Hammer

185 / 180
~6 Sapphires
54 hours

The Immortals

375 / 360
72 Hours

Curtis the Crusher

355 / 355

110-120 Sapphires 0-1 Black Pearls

>48 Hours

The Meat Man

~400 / ~430
>48 Hours

The Sun King

~390 / ~450
>48 Hours

Dread Pirate Randall

760 / 780
~85 Emeralds
0-1 Black Pearls

25 Hours
Wanted List Pirates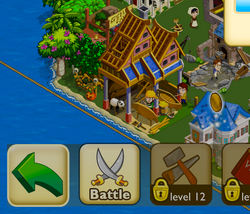 Wanted List Pirates are don't appear on your map but can be found through the Battle icon located at the bottom left of the screen.
There appeasr to be a severe bug in the Android version (3.20.04) where only the first three Wanted List Pirates are available!
Quest Pirates
Sometimes PocketGems will release short-term pirates as part of a quest.  These generally have short respawn times (2-4 hours) and appear randomly around the map.  Dependent on the quest they could be available for hours, days or even weeks.
For a full list of all known Quest Pirates, go to this page.